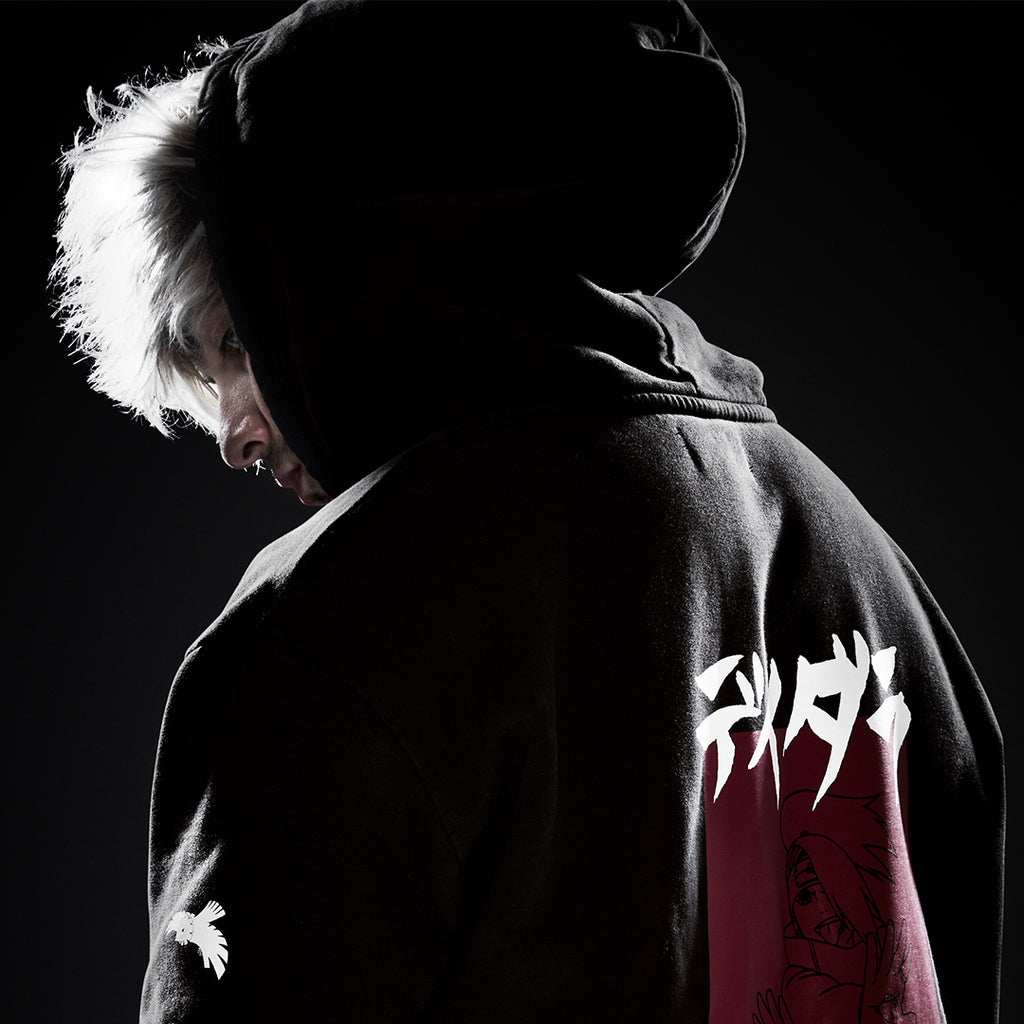 It's drop day for the the LIQUID x NARUTO - THE AKATSUKI COLLECTION and we are stoked to share it with the world. What started out as a 4 piece collection centered around the Chenille Cloud Pullover Hoodie, Sweatpants and the two all over print tees expanded into this offering you're seeing today. To be honest we never expected our first drop to be as successful as it was (considering the few obstacles like literally breaking our software with all the traffic we had) and afterwards we were left in a post onslaught daze.
Slowly we started scratching around and then the creative juices started flowing. It was and has been an enormous team effort to hit to where we are today, they say it takes a village, and it did (leaf village included).
Big shout to the everyone: Mike, Logan, Bree, Gabby, Damian, Artress, Maiki, Dom, G, Rich, 1UP, Steven K, Leanne, Viz, Akane, Michael Lee and too many to remember. Thank you!
Since you'd rather be shopping the site today than reading blog posts I thought I'd make this efficient and give you a little insight into some of the key pieces, details and fabrics we used. This might assist you in your purchasing decisions, and, if not at least you learnt something today :)
Stay tuned for more…
Travis
Global VP of Commerce and Apparel
LIQUID x NARUTO AKATSUKI MINERAL RINNEGAN PAIN TEE
This piece was produced in our factory in Vietnam who sustainably produce for a large number of streetwear brands, we actually planned to use this fabric for another collection but it was just so badass that we thought it would make a sick premium Pain piece. This fabric is heavy and thick, it's definitely suited for cooler days and climates and best worn a little oversized since it doesn't have a lot of give. This is premium stuff and paired with the mineral wash that softens and wears it down a little you've got yourself a garment that most other brands would typically sell for $ 150 and up. Best of all you won't find something of this level from your mall store so you're sure to have a unique and collectible Akatsuki piece.
Retails for $ 45.00 because it's not your average tee.
LIQUID x NARUTO AKATSUKI SIX PATHS OF PAIN SHORT SLEEVE TECH HOODIE
Mike's passion piece! Mike called me one day and said he wants to direct at least one piece for the collection, and, of course I was game. For those who don't know Mike Milanov is our CBDO, he may sound all corporate and stuff but Mike's got amazing ideas and is a tour de force of mental energy. He's actually the main reason we're even working with great properties such as Naruto in the first place. Anyway, back to the product. This piece slaps, it's a lightweight woven cotton so actually has more of the feel of a shirt or windbreaker and has a mesh lining. The whole idea behind this piece was to have something you could wear even on the warmer days or in humid climates. The cotton shell actually feels more like a nylon and has a great hand feel. Again, this piece is better worn relaxed so you can get the benefits of it being lightweight and comfortable. We added some cool extra features like reflective ink for the six paths and placed them strategically on the garment.
The 3/4 front zip is there to adapt to your body temperature as well as make it easier to get it on and off. I highly recommend getting this, it's even better in person.
Retails for $ 80.00 because baby I'm worth it.
LIQUID x NARUTO AKATSUKI TECH SHORTS
After the last drop's hugely successful rip-stop joggers we didn't want to follow it up with another pair of pants so decided to do a short instead for the Akatsuki. These can be layered over sports leggings or worn as regular shorts. Constructed from the same outer fabric as the Tech Hoodie these are also mesh lined and super comfortable and functional. We added bungee cords on the leg openings for all leg shapes and sizes as well as zipper pockets so your stuff stays in there. There are also some extra velcro closure pockets and great detailing with the raised PVC lockup patch and embroidered icon. I'm pretty sure you haven't seen a pair of Akatsuki shorts like these anywhere.
Retails for $ 70.00 because these nothing else quite like it.